Overview

Welcome to Papa's Wingeria, the latest restaurant in the Papa's cooking games! Here you will have to keep your picky customers happy as they order tons of wings and things. Take orders, run the deep fryers, sauce the wings, and arrange them on a platter with garnishes and sides.
If you're having trouble keeping track of everything, use your tips to buy Upgrades in the Shop to help. The Door Chime will alert you when new customers enter, Fryer Timers will alert you when wings have finished cooking, Fryer Boosters will let you cook foods faster, and decorations in the Furniture section will let customers wait longer before lowering your score.

Back to top


Frying Foods

Customers will order at least one type of meat to cook. In the Fry Station, there is a bin for each of the meats available to cook. Drag one of the meat bins onto an empty fryer. When you release the bin, the lid will pop up where you can select how many wings to drop into fryer. Drag the slider to the amount the customer ordered, and the meat will spill into the fryer basket and drop into the cooking oil.

The Timer Bar on each fryer's handle will show how long a batch of meat has cooked. Whe the Timer Bar reaches the white line in the middle, these wings are ready! Drag the fryer basket onto the Finished Bowl on the right to send them off to the Sauce Station.
If you make a mistake on an order, you can drag a fryer basket onto the Trash Bowl on the left to throw them away and start over.

Back to top


Saucing Wings

Each cooked batch of wings will slide into the Sauce Station, with a helpful ticket next to it showing how many of that meat are in the bowl. Drag the correct bottle of sauce above the bowl, which will start the Sauce Meter spinning. As the Sauce Meter spins, the number in the middle will change -- try to make this number match the number of the wings in the bowl. Release the sauce bottle to squirt the sauce, and the lid of the "tumbler" will drop onto the bowl.

Next you need to toss the wings in the sauce you added. The Spin Meter will automatically start when the tumbler drops in, and the green button should be pressed when the Spin Meter is completely green. The bowl will spin to toss the wings, and a different Spin Meter will appear to toss them again. Click the button when the Meter is completely green again. After the wings are finished being tossed, a colored lid will be added to the bowl and it will slide off to the Build Station.

Back to top


Arrange the Plate

Your customers are always picky, and they want their wings to be arranged evenly on their plates!
When an item has a red "circle" icon on the order ticket, this means to space this item evenly around the entire plate. Drag wings from the bowls along the bottom on the screen, and place them around the plate.

Other sides like celery and carrots will also be arranged around the plate, and should be evenly spaced along with the wings! If a customer orders 4 Wings and 4 Celery, you should space the celery inbetween each wing on the plate. If the customer orders 4 wings and 8 Celery, you should place 2 celery between each wing. Always try to make the plate look even, and don't stack any items on top of each other.

Dips are placed in the center of the plate on the bed of lettuce, and should also be spaced evenly -- if someone orders three dips, arrange them like a triangle. If they only order one dip, place it in the exact center.
Later, customers will start to order items on only HALF of the plate, which are marked with a "half circle" with a blue arrow on the order ticket. Make sure you evenly space these items on only the half of the plate like how they ordered. Customers will also order a combination of items on HALF the plate and ALL AROUND the plate. It's best to start by placing the ALL AROUND items on the plate first, then filling in the gaps with the items that are supposed to go on only half.

Back to top


Plate Examples



Orders with ALL-AROUND items: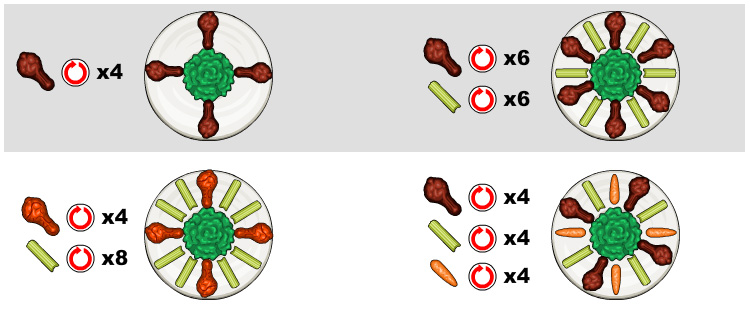 Orders with HALF items:







Orders with a combination of ALL-AROUND and HALF items: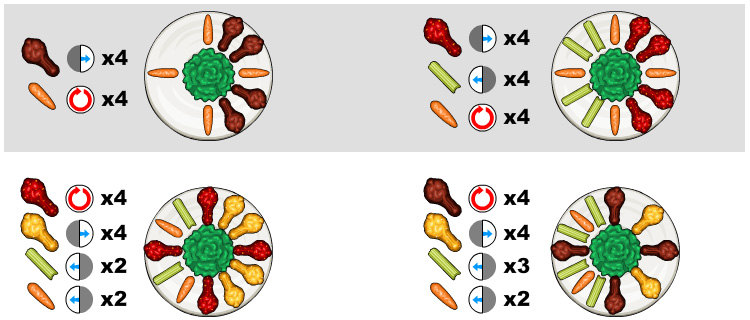 Back to top


Closers and the Food Critic

Each day of the week, a different "Closer" customer arrives at the end of the day to add an extra challenge. Each Closer is very picky about their order, so serving a good sundae is tougher! Make sure you do a good job on their order, since their standards are much higher.
Each Closer only comes in once every 7 days, so it's harder to earn Bronze, Silver, and Gold Awards for them — so make each visit count!
Jojo the Food Critic comes in once a week as a Closer. He's just as picky as the other Closers, and he also orders something completely different every time he visits. If he likes the sundae you serve, he'll award your restaurant a Blue Ribbon, which you keep for three days and display in your lobby.
While you have a Blue Ribbon, customers will give you bigger tips since you won the award, so try to make the Food Critic happy each week to keep earning more money!

Back to top


Customers, Orders, and Tickets

If a customer waits in line for a while before you take their order, or if they wait a long time for you to make their food, you'll get a lower score. Buy some decorations for the restaurant in the Shop, and they'll be okay with waiting a bit longer!
Buy the Door Chime from the Upgrades in the Shop to hear when a new customer enters. You'll also see an icon on the screen showing how many people are waiting in the order line.
Drag order tickets to the side hook to make them larger (easier to read when in the Build Station). For a quick glance, you can also drag a ticket towards the bottom of the screen to zoom in.
Organize tickets however you like on the ticket line. One great technique is to group them by their current state: New orders, in the fryers, and waiting to be built.
Customers will earn a star on their Star Meter if the total score for their order is 80% or higher. After earning 5 stars, that customer will earn a Customer Award, which gives you more points and more tips on their future orders.
If an order's total score is less than 60%, that customer's Star Meter will drop to zero. They won't lose any Customer Awards they earned, but you'll have to start working towards the next Award again.
At the start of each day when you open the shop, you'll see the first customer of the day show up outside. If you know what kind of wings that customer likes, you can quickly start cooking it before taking their order!
The SECOND customer of the day will also walk out of Foodini's Mini-Game Stand. If you know what type of food they like, you can get their order started as well, so it could already be half-finished by the time they arrive!
Looking to improve your Waiting Score? Furniture for the lobby will help. Looking to improve your other sections' scores? Posters and signs for certain types of food can be purchased in the Shop, which will boost your score when you use those items.
Want the customers to place and review their orders faster? When you earn Bronze, Silver, or Gold Awards for each customer, they'll be a lot quicker — so you can get back to work sooner!

Back to top


Earning Money for Upgrades

Just like in Papa's other shops, you can spend your earned tips on decorations and upgrades for your restaurant!
Customers give you tips, and will tip you higher when they've earned Bronze, Silver, or Gold Awards. They'll tip EVEN HIGHER when you earn a Blue Ribbon from Jojo the Food Critic each week! Papa Louie also heard that employees don't like working for free, so you also get a paycheck each week. Every time you level up, your wages go up as well!
There are also 80 Badges to earn through achievements in the game, each of which will also give you a reward of extra money to use towards upgrades.

Back to top


Decorating the Lobby

You can visit the Shop before each day to purchase posters and decorations to improve your score! You can buy a variety of posters and decorations, and you can even buy multiples of each. There are also different flooring and wallpapers you can use in your shop.
After you purchase items in the Shop, press "Decorate Lobby" to start arranging these items any way you like! Furniture items can be placed in certain areas on the floor. If a customer is standing near certain items while they're waiting (like soda machines or jukeboxes), they may interact with those items!
Posters can be placed anywhere on a grid on the wall. You can also swap your wallpaper and flooring while decorating your lobby by choosing it from your inventory.

Your inventory now has separate sections for each type of decoration: Furniture, Posters, Wallpaper, and Flooring. Click these tabs in your inventory to view each section of your collection.

Back to top


Mini Games

Each day of the week, the Great Foodini will arrive with his traveling Mini Game Show! You need special Game Tickets to be able to play the Mini Game, which you earn during the workday while completing good orders. There's a different Mini Game to play each day of the week, so you can save your tickets for your favorite game if you like.
Each game plays a little differently, but if you win the mini-game, Foodini will award you with a special piece of furniture that you can use in your Lobby, or clothing your worker can wear. Each game has 14 different prizes to earn, and once you earn them all, you'll randomly earn additional prizes from that set. As you earn more prizes though, each Mini Game will get more difficult, so you need to hone your skills to win all of the prizes! Some Mini Games have consolation prizes of extra tip money if you didn't win the game.

Back to top


Customer Parade

Before each day, you can watch a special Parade featuring all of the customers you've unlocked! Some customers (like the Closers) will walk along the parade in a group, which other special customers (like Roy) will get their own special parade float.
Some customers normally won't appear -- but if they earn a Bronze, Silver, or Gold Award, they'll also join in the parade! Keep playing and unlocking more customers to see your parade grow!

Back to top


Clothing

You can get new clothing for your worker in the Shop or by earning items in Mini-Games! New to the series, you can now change your worker's shirt, pants, shoes, hat, and other accessories with various new items. Before each day, click the "Clothing" tab at the top of the screen to browse through your clothing and change what you're wearing. You can also change your clothes at any time from the Pause Menu.


Back to top


Custom Workers

New to the series, you can now create custom workers for the Wingeria! Choose a boy or a girl, and you can customize your skin tone, hair color, hairstyle, facial hair, and make lots of adjustments to your facial features. Give your worker a name, and watch them start their career with Papa Louie!

You can change your worker's clothing when you get new items, and you can also change your custom worker's features from the "Customize" tab before each day (only available for Custom Workers). You can even change your skin tone, hair, facial features, and your name any time you like from the Pause Menu.

Back to top


Take Photo

Want to take a picture of your worker in their new outfit? Go to the "Clothing" tab, and click the "Take Photo" button. You can then save this photo to your hard drive -- no need to use Print Screen or crop the image, let the game do the work for you! Upload your photo to the Flipline Forum or Facebook to share your character with everyone!

Back to top


More Questions?
For more in-depth coverage of the game, view the in-game Help section by clicking the "Menu" button and then the "Help" button in Papa's Wingeria!

Back to top